Planning a wedding is no simple task, which is exactly why couples need months, if not a year or more to bring all the details together. With so much to consider, plan for, and arrange, wedding planning can start to feel like a full-time job in your life.
One aspect of wedding planning is to figure out what you will be giving to your guests who attend – also known as the favors or Bomboniere. Ideally, you want to pick something that is special, includes the date of your wedding and your names, and is actually something your guests will enjoy and use.
Sure, you can go the route of the typical Bomboniere and pick candies or chocolates, but that's just going to end up in a pile of items that are forgotten about. Items that you can customize can be a really interesting and fun way to go, as it just helps to make the day even more special and memorable.
A custom designed wedding koozie may just be the exact favor that you have been searching for, which is universal and sure to please all your guests. Here we'll take a look at how you can design your own wedding koozies.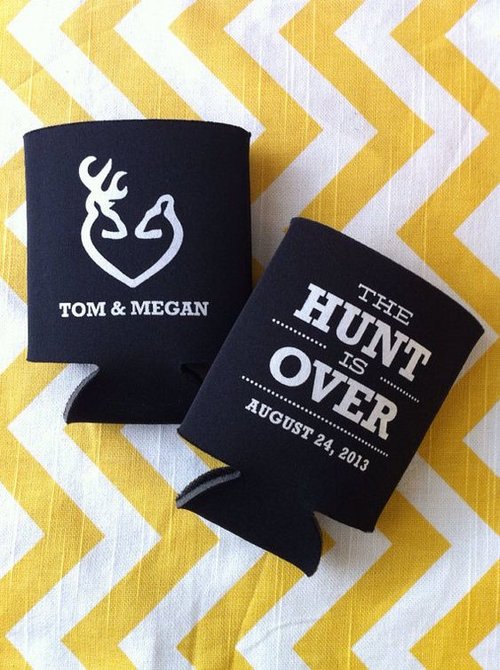 What Kind of Koozies Do You Want?
Koozie are the smart little sleeves that cold beverages slip into, that will help to keep the drink at the ideal temperature. It's common to see these being used around a pool deck, in the backyard, at the cottage, and even on the beach since they will keep a drink nice and cool even in the blazing sun. With that said, there are different sizes of koozies available, and they are made of different materials. What this means is that your first decision is to figure out what kind of koozies you want?
You can find some great koozies on the Express Imprint website in a variety of materials. Foam koozies tend to be the most durable, but then you also have collapsible koozies that are perfect for traveling with, neoprene koozies that do a great job at absorbing condensation, koozies with a carabiner attached so you won't lose it, and then models with a zipper on them. Your budget can help to make the decision clearer, and you can give thought as to what kind of beverages you intend the koozie to be used for.
Give the Order Plenty of Time to Be Completed
Another consideration that should be top of the list is to ensure you give the company plenty of time to fulfill your order. Look for a company that offers guaranteed delivery dates, and find out well in advance how much lead time they need. The last thing you want to be worrying about the week of your wedding is favors that won't be done on time.
Is There a Minimum Quantity?
You will also want to ask about minimum quantities; this means the company may have a minimum number you must order. If you have a small guest list, this may cause a problem.
Choose a Color from Your Wedding
Next is the customization process, which begins with picking a color. You can either choose one color for all guests, or you could pick a couple and maybe do one color for males and one for females, or one color for the groom's side and one for the bride's. Use colors from your actual wedding – such as the bridesmaid's dresses, flowers, and décor – to choose which color koozies to use as favors.
What this does is to help to create a more cohesive color palette on your wedding day. As well, if you plan on setting the koozies out on the tables in the reception area, then it won't distract from the décor since they will all be similar colors.
Look for a Company with Tools That Let You Be the Designer
Now comes the fun part, designing your koozies. Here's where you want to be picky about the company you choose. Ideally, you want to find one that puts you in the driver's seat giving you full control over your design. Express Imprint features a designer tool for customers; this is a great way to let you get creative. Companies may offer templates that give you a basic design to work with, and then you can change little things.
As for what to include in your design, obviously, you want to make it memorable so it should include the date of your wedding and your names. Some couples even go so far as to make a "logo" if you will with their initials, their name, or even a hashtag. This can also be included in the design.
A Fabulous Favor Guests Will Love
Custom koozies can make for a really unique and yet universally pleasing favor to give your guests at your wedding.