Sometimes attractive and comfortable don't mix. Why is that? There's not a very good reason for this. Whether you are dressing up or staying around the house, it's entirely possible to feel both comfortable and attractive at the same time. In fact, comfort is attractive. Comfort is confidence. When it comes to what you wear and how you wear it, there are plenty of options to be both comfortable and attractive concurrently. Below are five items to help you accomplish that.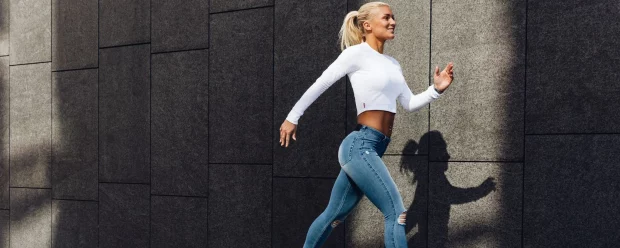 Form-Fitting Jeans
Jeans are simple, but they don't need to be drab. When you wear form-fitting and high-quality jeans, you can feel comfortable and great in your skin. You can accentuate your form and find that you look and feel good in a simple pair of pants. When you work to find the right pair of jeans that work for you, you'll be able to look good, be covered, and feel good all at once. A nice pair of form-fitting jeans that aren't too tight will help you live with confidence and feel great in a simple item of clothing that looks good on you.
Cotton Thongs
When it comes to feeling both attractive and comfortable, underwear plays a huge role. If your underwear isn't comfortable, you'll be fidgeting. You won't feel your best. On the other hand, if you wear frumpy underwear you won't feel great when you are getting intimate with someone. One happy medium is the cotton thong. With a thong like this, you'll be comfortable and look great. Cotton thongs are a great way to make sure you feel and look good in underwear. There are plenty of other options, but if you are struggling to find the right pair, start here.
Loose Skirts/Dresses
You can look and feel great in something free flowing too. Whether it's a skirt or a dress, if you have room for your legs and don't feel constrained, you can kill two birds with one stone. You'll be able to look your best without suffering from the uncomfortable aspects of fashion. Next time you need some clothes that feel great to wear, you don't have to sacrifice feeling attractive. Of course, it's not about attracting a mate. It's about feeling good in your skin. Skirts, dresses, and other loose clothing can help you accomplish both of these things.
Platforms Over Heels
Both men and women think heels are attractive, but they are notoriously uncomfortable. If you don't want to put yourself through that, you can always choose a pair of platforms over heels. When you want to boost your height and make your legs look longer, heels aren't the only option. Platforms can be attractive too. Whatever your style is, there is a pair of elevated shoes that you will find both comfortable and cute. A lot of women suffer through wearing heels because it's perceived as sensual, but there are plenty of other footwear options that can make you feel this way.
Jumpsuits
A lot of people overlook the jumpsuit. These items come in many forms. They can be both trashy and classy. They can be stylish and ugly. Luckily, if you put in a little time to research, you will find some of the most comfortable and beautiful items to choose from. Don't allow the term to fool you. Jumpsuits can be both attractive and comfortable at the same time. Look into them!
These five items above are just the beginning. There are plenty of clothing items you can wear that are easy to wear and look good on you. When it comes to your body type, style, and fashion choices, the sky's the limit. The most important thing is that you take this mindset with you.
Just about anything you wear can be attractive. Confidence is attractive and confidence is enhanced by comfort. Dressing your body well and choosing the things you wear based on just perceptions of looks but the way that you feel good will change how you feel about clothing. So, next time you are looking for clothes that fit and are comfortable, remember you don't have to sacrifice looking good. It is a balance that you can strike if you think enough about it.