Aigle is a pretty well-known French master rubber craftsman with a huge market experience, appearing in 1853. In France the brand is respected and popular because of the handmade boots that offer a really unique expertise and protects against the negative effects of the elements. Besides this, Aigle offers clothing and shoes.
As Aigle expands and tries to tackle different markets, we are seeing the launch of the very first international TV commercial. The commercial is for their new campaign with the signature "French but Wild", a concept with which the company hopes to appeal to more buyers from all around the world.
Aigle – French But Wild
The French but Wild campaign is basically going back to basics for Aigle. The brand film is really interesting, taking the viewer from a garden where some friends relax. Then, everything quickly evolves, with the 3 friends starting a simple badminton game. That game will take the viewer through an increasingly spectacular series of landscapes, reaching up to snowcapped mountains in wild summits.
Taking a look at the commercial brings in many different feelings. It is filled with various symbols and the attention to details is quite interesting. The addition of French Cancan music is what hints at the French origins of the Aigle brand. We are looking at a mindset that is focused on code mixing, wittiness and a lack of being pretentious.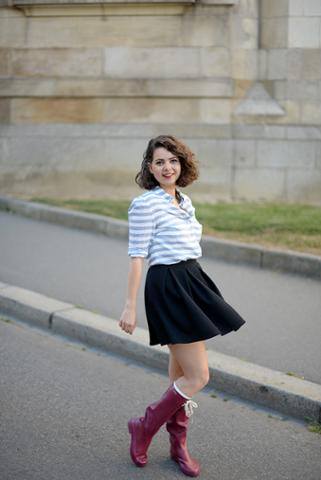 "French But Wild" is a very good motto for a brand that is now focused on offering something at an international level. The main focus is put on offering comfort and protection from the elements, something that is clearly highlighted in the Aigle commercial. Aigle is a brand that is very important for French fashion, having had an influence in so many moments in history.
The Sean Meehan directed ad will be officially launched internationally on the 8th of October 2016. It will focus on the new line that is launched by Aigle, which will be presented on the Aigle official website and will be backed by the official Instagram account of the French brand through a contest that will start on October 3rd.
More About Aigle
Aigle is not a name that is known internationally and the "French But Wild" campaign is going to focus on changing this. The textile and footwear company was founded in 1853 by Hiram Hutchinson, an American businessman that got a pattern from Charles Goodyear for the patented vulcanization process. This was translated into the production of high quality Wellington boots. Then we saw the production of raincoats. By the time the 20th century came Aigle was already popular and was involved in accessories production for the motor industry. Sports shoes quickly followed and the growth continued for dozens of years.
Now we see Aigle taking it to the next level with the international TV commercial.